I have been writing for Goldenseal magazine, a publication of West Virginia's Department of Culture and History, since 1987, when my "First Cutting" manuscript was published. I have had more than 100 stories and photos published in the highly respected, subscriber supported quarterly.
Posts on this blog present recently published material, often with additional photography and video content, as well as the stories behind the stories posts.
---
Visiting with West Virginia's last living Tuskegee Airman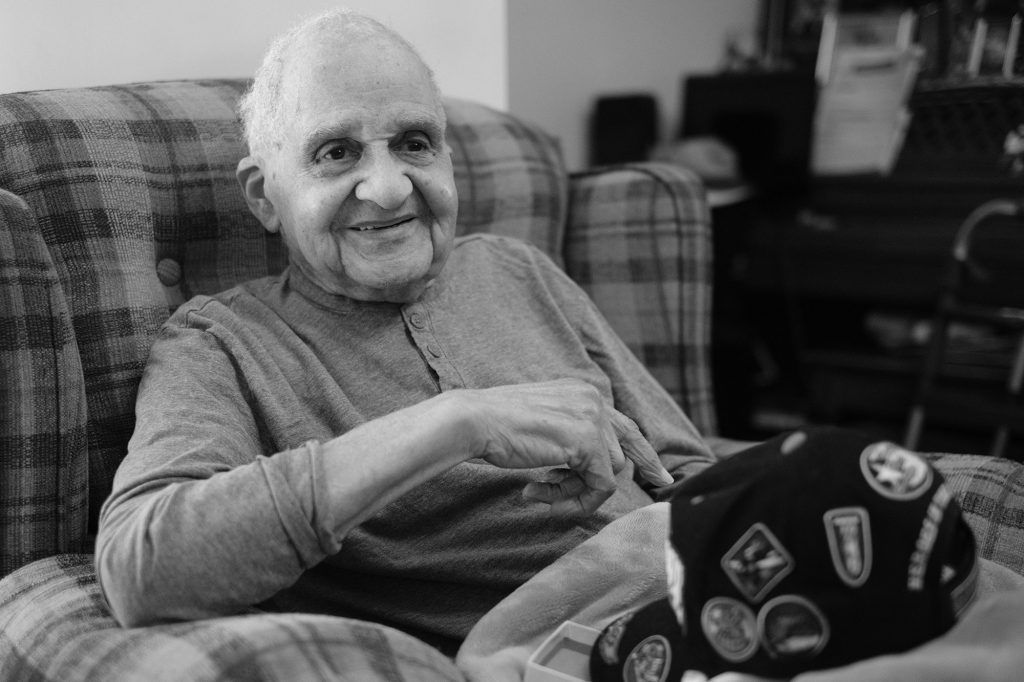 You can trust a secret to Clifton E. Brooks Sr.
Information that Clifton decoded back in the 1940s remains known only to Clifton, a resident of the county seat of Mineral County, Keyser, and West Virginia's last surviving Tuskegee Airman.
Clifton is getting up there in years; he was 97 when I visited him in the spring of 2019. He has some memory lapses, but one suspects that if he were placed in front of a US Army SIGABA machine, Clifton could still operate the keys and lever that enabled cryptologists to do their vital work during World War II. Indeed, both the machines and the personnel who operated them were so discrete in their duties, the US code was never broken. Even after the war, Clifton was so secretive about his wartime work, it has been only in the last decade or so that the full story of his military service became known to his eight children.
The airmen were "the men and women, African Americans and Caucasians, who were involved in the so-called 'Tuskegee Experience,' the Army Air Corps program to train African Americans to fly and maintain combat aircraft," states tuskegeeairmen.org. The airmen of the "experience" included pilots, navigators, bombardiers, and maintenance and support staff such as Clifton. His late brother, James, also was an airman and flew in a fighter group.
"He never talked about him being a cryptologist during the war," his son, Mickey "Mick" Brooks, told me. "He would tell me nothing about what he did. When Dad was told a secret, he kept it a secret."
As far as Mick and his other siblings knew, their father was a mechanic in the Army Air Corps during World War II. It was only after the movie "Top Guns in the Sky" and accompanying media coverage brought attention these airmen that Clifton confirmed his participation in that select group and cautiously shared his story. Mick and his siblings worked with West Virginia congressmen to secure the recognition his father deserved, including the Tuskegee Airmen Congressional Medal received by Clifton and his children: Jacque Washington, Apryl Smith, and Mickey, Clifton E. Jr., Rick, Victoria, Brenda and Tim Brooks.
As the nation's first black military pilots and support personnel, they both proved their capabilities and helped the Allies win the war. There were 992 black pilots who were Tuskegee Airmen; the first wave of them were assigned to the 99th Fighter Squadron, which deployed to North Africa during April 1943 and flew its first combat mission June 2, 1943.
Prior to 1940, African-Americans were barred from flying for the US military, and it was only through the pressure exerted by civil rights groups and the black press that the all African-American squadron was formed in 1941. Cadets lived on the Tuskegee Institute campus and trained at Moton Field in Tuskegee, Alabama.
The 332nd Fighter Group was the first black flying group. It was activated at Tuskegee Army Air Field on Oct. 13, 1942, and included the 100th, 301st and 302nd Fighter Squadrons. Clifton was a member of the 332nd, which deployed from Michigan to the mainland of Italy between Dec. 22, 1943 and Feb. 3, 1944. Their missions included patrolling shipping lanes in the Mediterranean Sea, supporting ground forces in Italy and escorting bombers. All told, the Tuskegee Airmen flew 1,491 missions.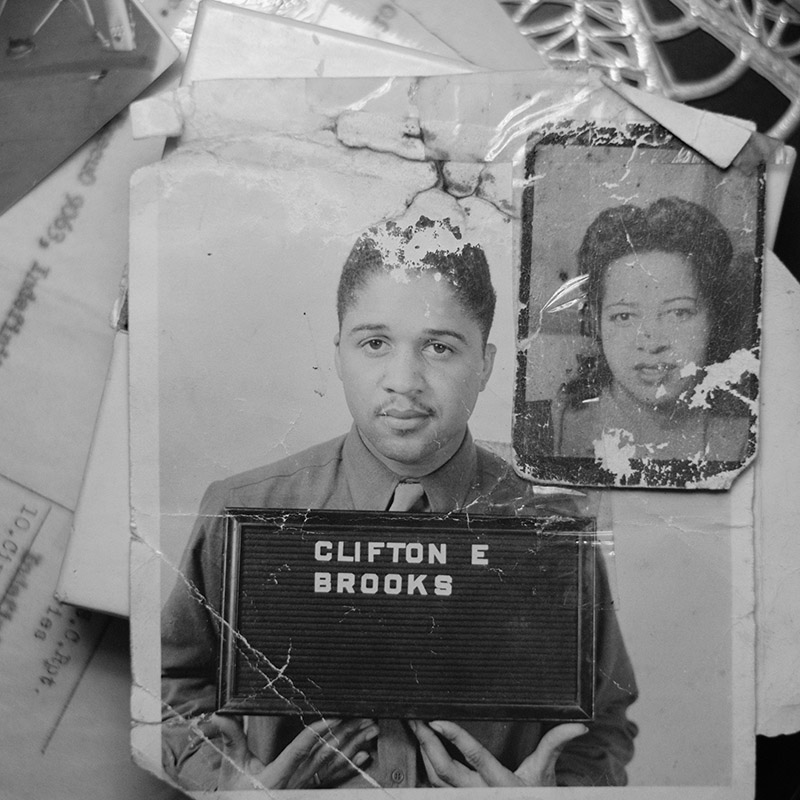 Clifton, born March 22, 1912, enlisted September 28, 1942, at Charleston, where he was a student at West Virginia State College. Mick says his grandmother, Nellie, had saved money so his father and Uncle James could get a higher education. Mick says education was a family value for the Brooks, who had both teachers and pastors in their ranks.
Mick says his father never shared with him what his career plans were after college. Mick just knows the story of his enlistment, which Clifton shared with me during a visit at a family member's home.
"Here comes this man to see me," Clifton says. "He asked, "Are you Clifton Brooks Sr.? If you are Clifton Brooks Sr., you are the man the government is looking for. Now don't you try to get away. You need to go with us.'"
Clifton says he wrapped up his work at school and let his mother know that he was joining the Army because he had the skills the government needed. He and James stayed together throughout the war years. "Wherever he went, I went," Clifton says.
According to his enlistment record, Clifton went into active service December 2, 1942, and held the military occupational specialty of cryptographic technician. He arrived in North Africa February 3, 1944. His experience included Rome, Arno, North Apennines, the Po Valley, northern and southern France, Central Europe and the Balkans. He received the Good Conduct Medal and European African Middle Eastern Service Ribbon and Distinguished Unite Badge.
"One time he went to town in a bus and had to walk back to the base because he was not allowed to get on the bus (with the white passengers)," Mick says. "He also told about how the black officers were treated and were not allowed to use the same mess hall as the white officers."
Mick says that while his father did not speak of the work he did during the war, he did talk about the discrimination and segregation the airmen experienced, including "colored" facilities in Alabama.
Clifton returned to the United States Oct. 17, 1945, and, after being discharged from the Army, came back to Keyser and married Bessie Reva, who'd been his classmate at the segregated Howard High School in Piedmont. Clifton graduated in 1940 and Bessie in 1942. Mick says his mother was widowed during the war, and his father and she married in 1947 or '48.
Mick's Uncle James, who was a pilot with the Tuskegee Airmen, joined the US Navy and lived in Portsmouth, Va. He is deceased.
Clifton chose marriage over completing his college degree and got a job with Kelly Springfield in Cumberland, Maryland, as a tire builder. He worked there four decades and was a quality control worker when he retired in 1982. His employer named him the company's "Man of the Year."
The couple raised their eight children in a modest home on Locust Street, across the highway from South End Park. Mick says the park was simply a corn field when he was growing up and the entire neighborhood was farms. It is now all residential and commercial.
"We grew up in that park," Mick says. "It had a pool, and I spent almost every day down there. There was an airfield right next to the park, and the planes would fly over it."
To circumvent their mother's rule that they were not to cross the highway to get to the park, the children crawled through the culvert under the road to reach the recreation spot, which now bears the family's name.
Mick says the family had a tradition of vacationing at Atlantic City, where an aunt lived and provided lodging. even in those relaxed times on the boardwalk and beach, Clifton didn't share his war stories. Indeed, unknown to his family, during those post-war years, government employees were monitoring Clifton's associations to determine if Clifton was sharing cryptology secrets he'd acquired during his time in the Army. The secrets were safe with Clifton E. Brooks Sr.
The fact that he was a World War veteran was no secret, however. Even before retirement, Clifton gave freely of his time to the American Legion's Washington Smith Post 152, of which he served as post commander and district chaplain. He's been a member 72 years. Clifton also served as treasurer and lay speaker of his church, Janes United Methodist, and was a Mason and past grand master of Potomac Lodge 41. He was often called upon to speak at Memorial Day services and to school children during Black History Month. On Martin Luther King Day, Clifton recited King's "I Have a Dream"
speech wherever he was invited to speak.
"He stayed busy all the time," Mick says.
Once the full story of his service with Tuskegee Airmen was known by the family and community, Clifton kept busy sharing that aspect of his life, as well. Mick says one of the most memorable stories that his father shared was of having a bomb and suicide pills in his room where the cryptology work was performed. If the base were overrun by the enemy, he was to use the incendiary bomb to destroy the machine and associated documents, then consume the suicide pill so he could not be captured alive.
In April 2006 the US Congress voted to award a Congressional Gold Medal to the approximately 350 surviving Tuskegee Airmen or their widows. A bronze replica was presented to Clifton in 2010. His receipt of that honor drew community recognition that led to the park and the bridge being named in his honor. TJ Coleman of the Aubrey Steward Project spearheaded the effort.
"Don't wait until people pass to recognize them," Coleman told Elaine Blaisdell of the Cumberland Times-News in September 2018. "Let's do this while we can so he can appreciate it."
On November 26, 2018, the sign designating Keyser's South End Park as Brooks Park was unveiled. Clifton attended the ceremony, at which Keyser mayor Damon Tillman declared, "Today is a great day for the City of Keyser. It is a day we as a city can give back to a hero," reported Liz Beavers of the Mineral Daily News Tribune. "Finally, we get to give back to somebody who is so deserving.".
"Mr. Brooks, when everyone comes across that bridge, it will be your face they see," Coleman told Clifton at the November ceremony.
It is a kind face. A face that smiles often yet conceals secrets; a face full of stories that will never be shared. Every question about his service is answered with his anecdote about the man coming to the West Virginia State College in September 1942 and looking for Clifton E. Brooks Sr.
So, I ask Clifton what the other men who served with him would tell me about him, and he says, "If you go that way, I guarantee that they will know Clifton Brooks," and falls silent. I ask him what he thinks of all the attention he's received, and Clifton looks around the room and says in a soft but strong voice that he is humbled to "see you all sitting here to find out something about me, to see a white man coming here and looking for a black man boy like me," perhaps not still not able to comprehend just how far these airmen's flights have taken us in our battles both overseas and at home.
This article appears in the Winter 2019 Goldenseal magazine.
---
Fletcher Bridge
West of Clarksburg, W.Va., a few miles off U.S. Route 50, is the Fletcher Covered Bridge. I first visited this bridge in April 2012 and scouted it as a location for a night-time, Night Crossings image.
The opportunity arose in October, 2013, when I was in Clarksburg during the day on an assignment.
I drove to the bridge and arrived before dusk, giving me plenty of time to set up the tripod and find the best angle. Once night fell, I went to work in the dark countryside. The road that passes by the bridge, although a narrow, two-lane country byway, was heavily traveled, but no one stopped to see what I was doing. Even the neighbors didn't bother to venture out and check on the flashing and arcs of LED lights around the bridge.
While I had planned to do a view from the end of the bridge opposite of the road, I could not get the framing that I wanted. So I opted for the road-side of the bridge, which is still in use but did not receive any traffic that night.
The 62-foot bridge is a multiple king post and was built by Soloman Swiger and L.E. Strum.
Located in Harrison County, it spans Tenmile Creek.
The bridge was built for just $1,372 back in 1891. It's said that the stone for the abutments was quarried at the top of a hill near the bridge site.
The red bridge was restored a few years ago. Allegheny Restoration and Builders of Morgantown charged the state $447,000 for the work, which included replacement of some structural timber and the attractive red siding and roof.
It was a pleasure to photograph this short entry in the nation's gallery of covered bridges.
---
A working man's room
Traveling across West Virginia, writing and photographing as I go, I am compelled to stay in economical accommodations. I look for rooms that cost under $50 a night, all taxes included.
And so it was that began my autumnal pilgrimage in Bridgeport, where the clerk asked me if I wanted a "Working Man's Room" or a "Nice Room." After inquiring about the price and noting the nearly $40 premium for a nice room, I went for the Working Man's Room. After all, this was a working trip.
The thing that immediately struck me was the shabby condition of the hallway leading to the room. It must have been built before brooms were invented.
The room itself was, well, working class. It should have been gutted years ago and everything updated. Rather, stop-gap repairs were done as necessary using materials salvaged from other rooms, I would guess.
The bathroom was particularly interesting — it was the first time I'd seen the walls of a plastic shower stall cracking and broken, patched with caulking and otherwise feeble attempts to keep the moisture from invading the unit below.
The room obviously had plumbing issues; a large section of the wall had been removed to access the pipes and, rather than re-seal that section, the piece of wallboard was just resting against wall. I found out that by moving it and looking down the hole, I had a nice view of the plumbing in the unit below.
The carpet was stained and ripped, one section was missing. My socks stayed on my feet the whole time, and after showering, I made a path from the shower to the bed using my dirty clothes to protect my bare feet from the oil and gas field residue.
Speaking of the shower, the fixtures were so worn, the bathtub continued to fill with water even when the flow was redirected to the shower head. And I soon discovered that the control that mixes the hot and cold water did not work when it was turned to shower. It was either all hot or all cold.
The lighting was dingy, which was probably a good thing. It keeps guests from fully grasping the despair of the place.
Since I was in the working man's section of the motel, I had to contend with the late-night revelers and the early risers, whose paths began to cross around 3 a.m.
When I called my wife with an update about the trip thus far and state of the accommodations, she warned me not to take my bag of clean clothes into the room and DO NOT bring home any bed bugs. I hadn't even thought of that possibility.
It appears as if I escaped Bridgeport without any hitchhikers on my clothes or body. Two two nights later, in Marlinton, I was able to rent a room for the same amount of money at the Greenbrier Grille and Lodge. I enjoyed accommodations that were clean and smelled fresh. Although not modern, the room and its furnishings were very nice and the workmanship top notch. The shower was incredible.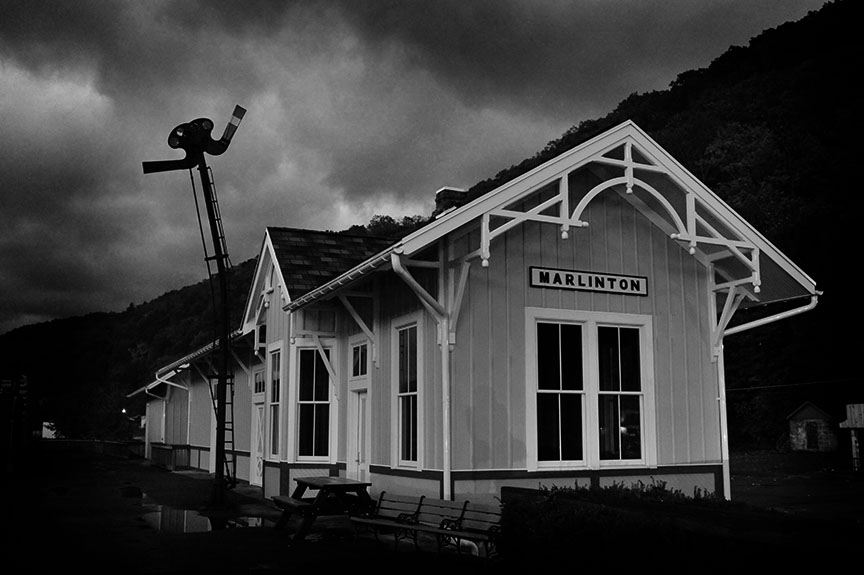 I highly recommend the Greenbrierier if you are ever in Marlinton and need accommodations or a place to eat. The waitressing staff was very friendly and helpful. Be sure to order their hand-cut french fries; they are so good! The brown rice veggie burger was excellent, too. However, avoid the thick pancakes for breakfast. They are so thick, they reminded me of a three-layer cake without the frosting and had me longing for Buckwheat cakes from Melanie's in Aurora.
One other great feature of the Greenbrier — there is an assortment of ducks that hang out on the river next to Lodge's deck. For 50 cents, you can purchase a bag of corn and feed the ducks (proceeds go to an animal shelter). And no, I didn't see duck on the menu!
Originally posted in October 2016.
---
A castle, commissioner and cemetery

Author's note: This blog was originally published in March 2016; it has been re-published as part of the site's redesign in 2020.
In a typical year, I would make my first West Virginia/Back Roads journey in early May. But so far this year (2016) I've made two trips, one in January and one in March.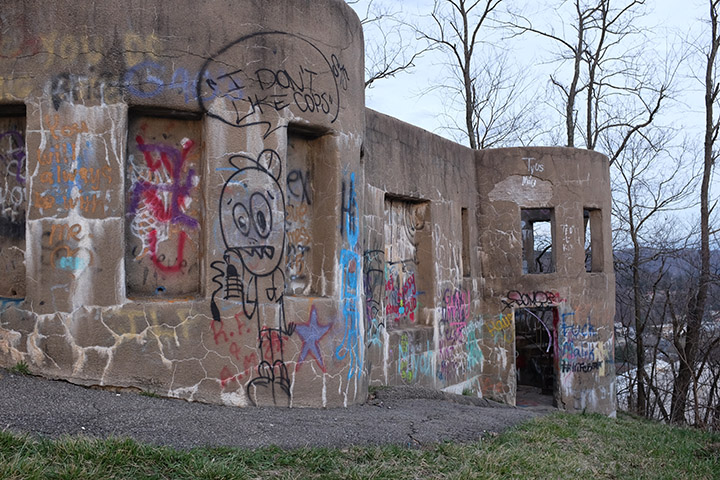 The January trip, to the Eastern Panhandle, was during a weekend when the temperature on Saturday was 60 degrees and fell to near zero by Monday morning. It was so cold, I chose not to walk around my favorite place in the world, Harpers Ferry, that morning. My old bones feel the cold more acutely these days, it seems.
My March trip to the Northern Panhandle was on a Saturday. It's about 100 miles from my house to the tip of W.Va., Chester. After all these years, I still feel a sense of relief, of coming home, whenever I cross that state line heading south, and a twinge of sadness when my front tires hit that Buckeye pavement.
The weather Saturday was perfect. When I left home, the trees were weeping with the frost melting from their branches; there was golden steam everywhere. I could have passed for a May morning.
Within three hours, I was in Wellsburg and Highland Springs Farm, where I was greeted by Cooper, a pot-bellied pig who was coming back from his morning walk.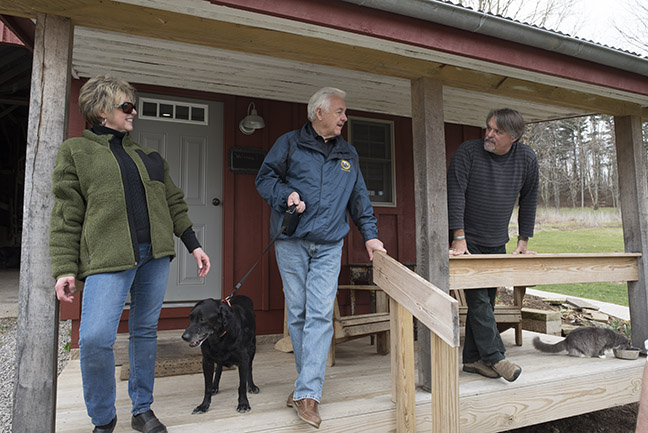 The innkeepers were expecting a state dignitary, Walt Helmick, the commissioner of agriculture, and agreed to give me a tour while we awaited the commissioner's arrival. I won't go into details about the farm except to say these gentlemen, Harry Sanford and Chatman Neely, have assembled a near-perfect repose for animals and people using mostly reclaimed materials (as in an old log barn for the frame of their dining room and a discarded pig pen for their dogs' condo). They operate the Barn With Inn bed and breakfast on the property. You can stay in a loft room in the barn and look out the window into the animals' stalls, take an outdoor shower and enjoy West Virginia sourced appetizers and drinks at night and eggs straight from the hen house in the morning.
Read more about them at the website.
I tagged along with the commissioner, his wife and staff as they toured the farm, which raises hay and vegetables, and provides shelter for animals that otherwise would not have a home. It was during that stroll that we came across this: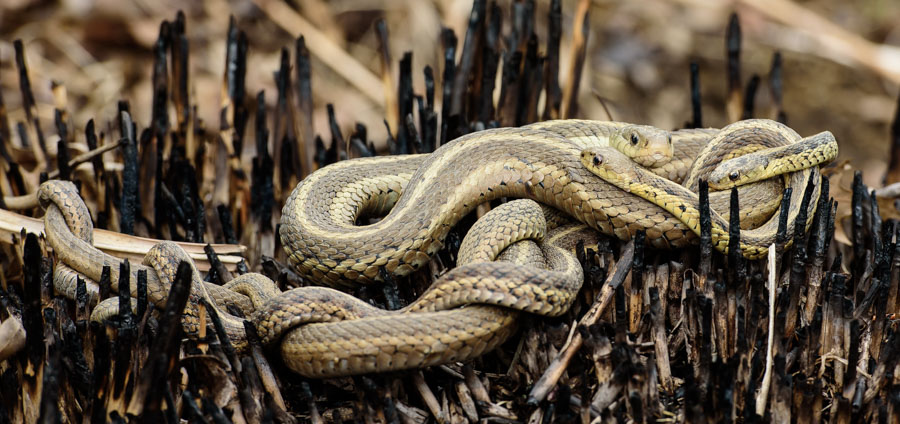 Everybody was fascinated by these intertwined garter snakes, including the commissioner, who being from Pocahontas County, had a few good snake stories to tell. I'm guessing that, between all the cameras pointed at these reptiles, at least 100 pictures of them were snapped trying to get them with their tongues out. (I didn't get one, I was too busy making sure they didn't strike! Yes, I know garter snakes don't strike.)
It was a real pleasure meeting Walt Helmick, his wife and their staff. They were friendly and down-to-earth folks, the kind of people you'd like to find as your neighbors at a bed and breakfast or on a three-hour tour. And Chatman and Harry were equally hospitable, as well as their assortment of cats and dogs, all of them adopted (Harry's a vet so a lot of their "livestock" comes in as tough-luck cases at the clinic).
From there I traveled to the Family Roots Farm, also in Wellsburg, where the owners, Charlie and Britney, were waiting for me with a customized welcome sign: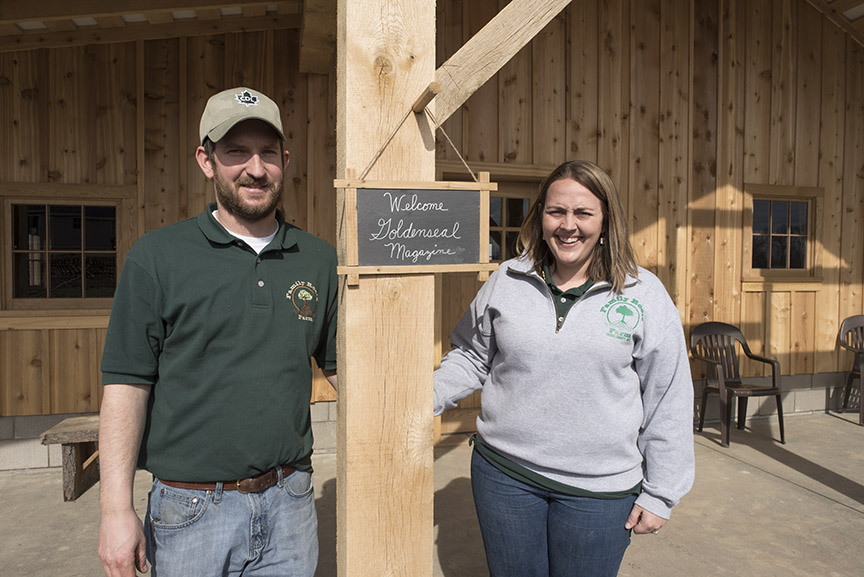 ---
Married just three years, this young couple is building a farm for the 21st century on the farmland that Britney's ancestors, the Herveys, first settled on in 1770. Their specialty is maple syrup, and although they've been at it just a few years, their maple sugar won best in the world at an international competition in 2015. Their maple syrup received a perfect score.
They're branching beyond maple trees to sorghum, sweet corn and other vegetables. Last year they planted five acres of vegetables and this year they're shooting for 10 acres. And they both work full-time jobs.
Hopefully my editor will find their stories worthwhile and you can read more about them in a future Back Roads column in Goldenseal.
After wrapping up at Family Roots, I was ready for lunch/dinner. I went to my favorite restaurant in Wheeling, Coleman's, and ate the fish sandwich and fries. Yes, I am a vegetarian, but once in a very great while, as in when I'm in Wheeling, I do eat fish. Coleman's is the only fish I'll eat.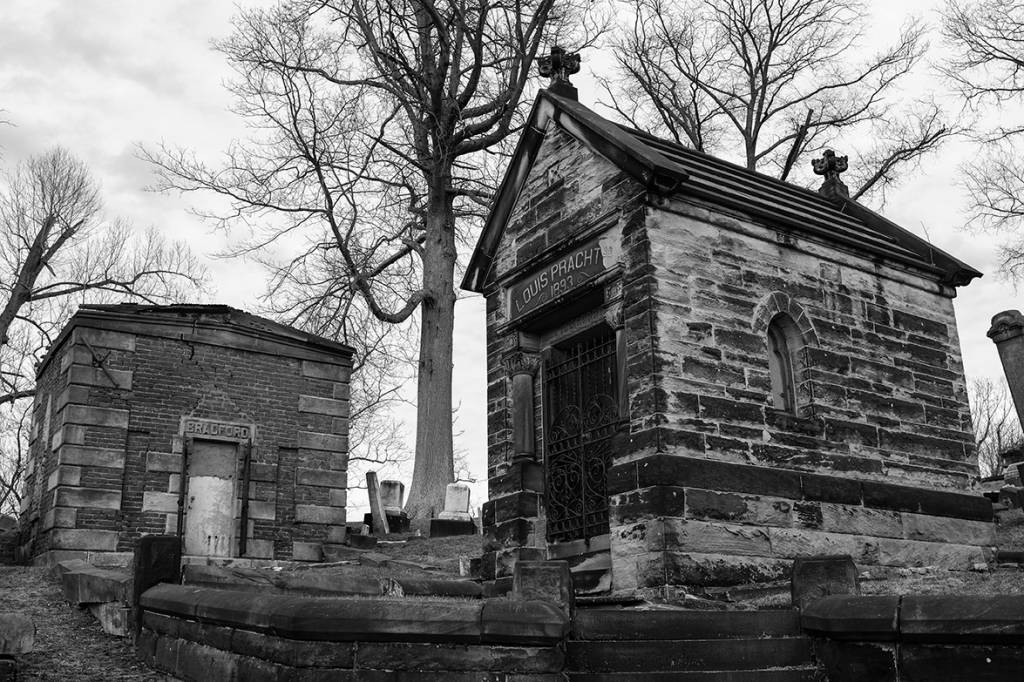 ---
Next stop, Wheeling Hill, Mount Wood Cemetery and the castle. The cemetery is amazing. Built on a steep hill, the top is reserved for the movers and shakers of 19th-century Wheeling. My Goldenseal Back Roads story will feature one of these fascinating residents.
Descending the slope of the rural cemetery, the graves become more prosaic, the obelisks give way to broken sandstone tablets. At the base is the Jewish cemetery.
Across the street, at the overlook/castle, there is a great view of the Ohio River and the city.
The magic hour, when the light takes on a beautiful quality and bathes the city in blue, was rolling across the streets. It was a perfect time for a walk with my little Fuji X100T, a digital rangefinder with a fixed 23mm, effective 35mm, lens.
I looked for Wheeling's most famous citizen, Moon Dog, but he was not patrolling, at least not yet. As the lights on the suspension bridge came on, I walked on the bridge toward Wheeling Island and was lucky enough to see a tow boat and barges heading down river. I positioned myself to take a series of pictures.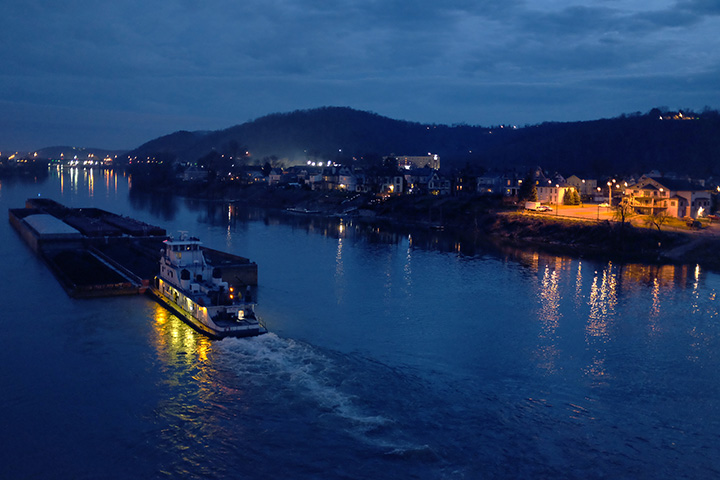 The entourage slipped past Wheeling Island, then followed the strings of industrial and residential lights toward Moundsville, Cincinnati and perhaps Nashville. Their destiny was downriver, mine was to follow the river north, to Chester, away from the mountains and that inexplicable sense of peace I feel when I'm there, back to Ohio and The Feather Cottage.
---