This page features stories about the history and culture of Northeast Ohio, primarily Ashtabula County. Topics include Lake Erie, rural lifestyles, the summer resort community of Geneva-on-the-Lake, covered bridges and the Ashtabula Train Disaster.
Readers interested in learning more about these topics may be interested in purchasing Carl's books Mountain People in a Flat Land; Hidden History of Ashtabula County; Covered Bridges of Ashtabula County, Ohio; Ashtabula Harbor: A History of the World's Greatest Iron Ore Receiving Port; Ashtabula County: A Field Guide; Pleasure Grounds: 150 Years of Geneva-on-the-Lake, Ohio's First Summer Resort.
---

Ellen Spencer Mussey: Daughter of the Father of American Penmanship
Ellen Spencer was but 12 years old when she went to work in the penmanship school of her famous father, Platt R. Spencer of Geneva. She was the youngest penmanship teacher in Ohio, and her father, 62, was the oldest.
Following the death of her father in 1864, Ellen could have drifted into marriage, motherhood and obscurity. But the same penchant for excellence and accomplishment that marked the lives of her father and his business-college founder son, Henry, was endowed upon Ellen, a lawyer, educator and pioneer in the effort to open legal education to women and give them full legal rights apart from their spouse.
Born in 1850 in Geneva Township, Ellen received her early education from her father at the Jericho School on what is now North Myers Road (the Spencer home there is owned by the P.R. Spencer Historical Society). She studied at Rice's Young Ladies' Seminary in Poughkeepsie, N.Y., following her father's death. Further education was obtained at Lake Erie College and Rockford College, Rockford, Ill.
Her brother, Henry, founded the Spencerian Business College of Washington, D.C., and at the age of 19, Ellen moved to D.C. to lead the women's section of the college, which trained students for jobs in government and business. Her Washington presence connected Ellen to Reuben D. Mussey, who had served as a colonel for the Union Army and had a law practice in D.C. A New Hampshire native, Reuben had campaigned for Lincoln and joined a militia company led by Cassius M. Clay, an abolitionist. Initially charged with guarding the president and White House, Mussey eventually became captain of the 19th U.S. Infantry Regiment. As captain, he helped recruit African-Americans to serve as Union Army soldiers.
Ellen and Reuben were married in 1871; a woman far ahead of her time; she had the word "obey" omitted from the wedding vow. Nevertheless, in her actions she demonstrated a commitment to both matrimony and motherhood while blazing a trail for equality.
She bore two children, Spencer (1872-1891) and William Hitz (1874-1939), and was stepmother to Reuben's two daughters by his first wife. Ellen also took an interest in her husband's profession, worked in his office and studied law under him. She applied to the law schools of National University and Columbian College but was denied access. Just five years into their marriage, a huge burden was shifted onto her shoulders when her husband contracted malaria while campaigning for Rutherford B. Hayes. Reuben became an invalid, and Ellen, 26 and with four children and an invalid husband, moved the family to a building in downtown Washington near the law practice. With Reuben's assistance, the practice remained open.
Ellen was not a member of the bar, however, and her husband's death in 1892 jeopardized her livelihood. Several Washington lawyers lobbied to have special consideration given to her, and in March 1893, Ellen passed the bar by oral examination. She was admitted to practice before the Supreme Court of the United States in 1896.
That same year, President Grover Cleveland signed into law legislation drafted by Ellen and giving women of the District of Columbia the right to their own earnings and custody of their children. Prior to the law, a father living in the district, even if he was a criminal, could claim custody. Her fight for a woman's independent legal status culminated in 1922 with passage of a bill that permitted an American female citizen who marries a foreigner to retain U.S. citizenship rights. As a result of this bill, Ruth Bryan Owen, daughter of William Jennings Bryan and the wife of an Englishman, could serve as a US Representative from Florida's 4th District from 1929 to 1933. From 1933 to 1936, Bryan was US Ambassador to Denmark.
Like her father and brother, Ellen had a strong interest in education. She was a member of the Columbia Board of Education and worked to establish kindergarten as part of the district's program. And she pioneered the effort to establish retirement benefits for public school teachers.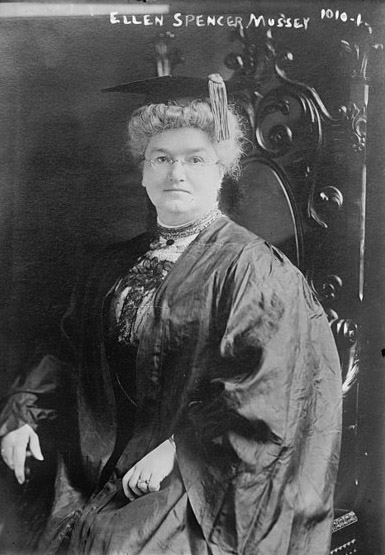 Her greatest accomplishments were in the area of providing legal education for women. An aspiring attorney, Della Sheldon Jackson, in 1895 requested an apprenticeship under Ellen. With assistance from a colleague, Emma Gillett, Ellen opened, on Feb. 1, 1896, the first session of the Woman's Law Class. Jackson, Nanette Paul and Helen Malcolm were its first students.
The program grew with assistance from several prominent Washington, D.C., attorneys. The students planned to take their final year of law education at Columbian College, but that institution rejected them on the grounds that "women did not have the mentality for law." That closed door resulted in the founding of the Washington College of Law, incorporated by Emma Gillett and Ellen Mussey in April 1898.
The college, since merged with American University, was the world's first law school founded by women. Ellen Mussey served as dean until her retirement in 1913.
In her retirement years, Ellen founded the Women's Bar Association of the District of Columbia and was elected its first president. She also was involved in the founding of the National Association of Women Lawyers in 1919 and was first chairwoman of the Women's City Club of Washington, founded the same year. And she was among the founders of the American Red Cross.
Ellen Spencer Mussey died April 21, 1936, in Washington, D.C.; she is buried in the district's Oak Hill Cemetery.
---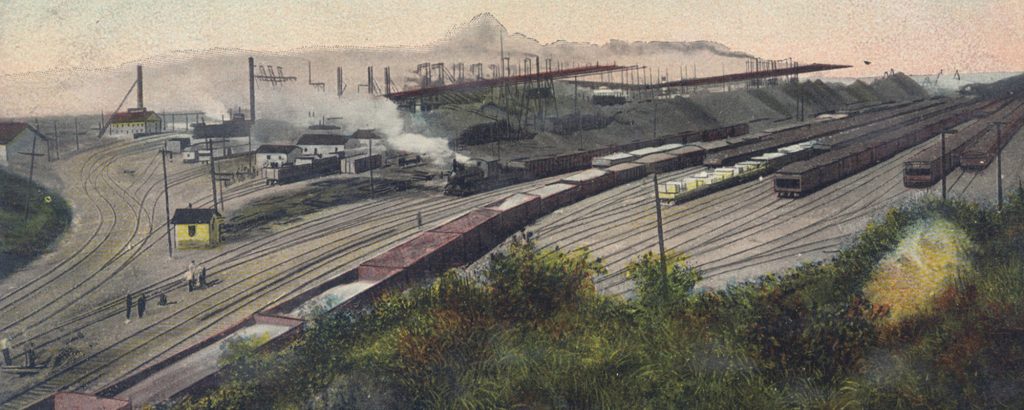 Ashtabula investors were behind Normania
The shipping season of 1909 delivered nothing but progress to Ashtabula Harbor.
The first four of eight Hulett electric unloaders went online that summer at the Lake Shore's (New York Central) Superior extension docks on the river's east side. As the operators became comfortable with the behemoths' controls, ore unloading records began to fall. Meanwhile, nearly 250 men worked on the Lake Shore's docks that would accommodate the ore shipments for Jones & Laughlin mills.
In their haste to unload and drive the hundreds of piles required to create the slip, Frank Ferguson, a foreman, was nearly killed in October. A piling, thrown out of a rail car, struck Ferguson on the side of his head, knocked out a few teeth and dislocated his jawbone. The timber hit O. Else, a worker, in the chest and knocked him 10 feet. A couple of days later, Antonio Pondico, 45, was crushed between a rail car and clam bucket filled with coal and being swung into the hold of a vessel. He died on the way to the hospital and left behind a wife and seven children, still in Italy. He was saving his money to bring them to the United States, where a daughter and son already lived.
Such was the nature of work and life in The World's Greatest Iron Ore Receiving Port.
Also in 1909, the Pennsylvania Railroad, which operated on the west side, announced an investment of $100,000 in its Ashtabula docks at Ashtabula; the work would be done during the winter of 1909-1910. That August, a steam shovel devoured slices of Point Park, "what was once the pride of the north end," as the prime real estate was removed to make way for the Pennsylvania Railroad's tracks to the lakefront. The dirt thus removed was used to fill low spots where the coal and ore cars would terminate their journey to the docks.
Mean, the pay cars of both The Lake Shore and Pennsylvania railroads delivered glad tidings to workers; in August, 1909, the biggest pay day in two years put extra dollars into the railroaders' pockets and Ashtabula economy.
A deal between the city and Great Lakes Engineering was signed that summer, as well. Although the shipyard failed to bring the touted economic boom to the city, it built Liberty Ships during World War I and provided drydock facilities for smaller lake vessels for several decades.
Port lists attest to the volume of bulk carrier business handled at The Harbor. On a typical day, a dozen ore boats arrived at The Harbor and as many cleared the port.
The steamer Normania was among those received in August. Its arrival was received with much fanfare, for the Normania had a strong hometown connection: Many of its shareholders were Ashtabula investors, who came to The Harbor the afternoon of August 15 to see what their $300,000 had purchased.
Normania was built the prior year at the St. Clair, Michigan, works of Great Lakes Engineering. She was 420 feet long, 52 feet wide and drew 24 feet. Gross tonnage was 4,871; net, 4705. The steel hull was number 39 for the shipbuilder.
There is no explanation for its name, but the owners were incorporated as the Ashtabula Steamship Company. The Normania appears to have been the firm's only project. Pickens-Mather & Co. managed the vessel, which was skippered by Captain Oscar Olesen of Ashtabula.
He welcomed 15 of the shareholders onto the vessel that evening as its cargo of iron ore was unloaded. The tables were set with "a lunch that would have done credit to the swell hotels of New York city." The owners then toured the vessel, which, according to the Ashtabula Beacon-Record, was "a model of utility, convenience and comfort. … The cabins are neat and commodious, affording ample accommodations for the crew and officers. Each department is provided with private bath rooms and each gang-way has a separate shower bat equipment. The passenger rooms are elegantly appointed, with their tall, brass bedsteads, chiffoniers, private lavatories, electric lights and fans." The rooms compared favorably to those in "leading hotels."
After eight years of ownership, the Ashtabula Steamship Company sold the vessel to the Ottawa Transit Co. of Mentor (Lake County). An act of the 64th Congress, June 22, 1916, approved changing the vessel's name to William F. Stifel. It retained that name when it was sold to Columbia Steamship Co. in 1921 and to Oglebay Norton Co. in 1958.
By then, the 420-foot-long vessel was too aged and inefficient for the lake trade, and she was sold through Marine Salvage, Ltd., of Port Colborne, Ontario, to Italian shipbreakers. The Normania, which had proudly sailed into Ashtabula Harbor, her colors floating in a stiff breeze, to meet her owners some 51 years prior, arrived in tow at Savona, Italy, Dec. 27, 1960, for scrapping.
Such was the way of life and work at The World's Greatest Iron Ore Receiving Port.