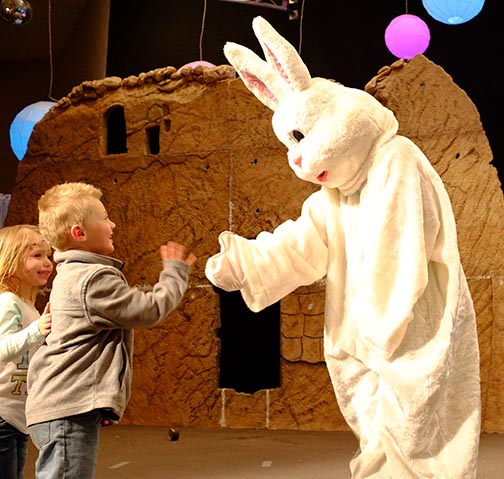 My church, Friends Cornerstone in Madison, Ohio, a Quaker congregation, held its annual Easter Egg Hunt and Spring Carnival on Saturday. I had the honor of manning the photo booth, where a youngster could be photographed with the bunny and receive a print in a folder for just 15 tickets (tickets are much more manageable than money at this level. Come to think of it, perhaps we should be paid in tickets).
I quickly lost count of how many babies, toddlers, youngsters and parents, grandparent and aunts and uncles took a seat in front of the camera with the bunny. During the next five hours, I learned some valuable lessons:
Babies are afraid of the Easter Bunny, very afraid.
Toddlers are afraid of the Easter Bunny, screamingly afraid.
Children 5 and older love the Easter Bunny.
Most children can fit inside the Easter Bunny's head. As a result, the Easter Bunny seems to dominate every part of the frame, no matter how you compose it.
Composition is secondary to expression.
Easter Bunnies get very hot and need frequent breaks.
Easter Bunnies have to go potty.
Printers run out of ribbon at the worst possible time.
Printer manufacturers require a firmware upgrade of the printer to be able to use the new style of ribbon.
That upgrade has to occur at the worst possible time.
The new ribbon arrangement is prone to jamming.
People are very patient and understanding.
This event is huge!
Where are all these people coming from?
People who can work with kids are incredible. How do they do that?
Sean is amazing. Where does he get his energy?
Did I mention that Easter Bunnies need to go potty?
Flashes, even those hooked to Pocket Wizards, fail to fire at the worst moments.
Children love the Easter Bunny.
You can have too much of a good thing. Easter candy is a good example.
 I'm glad I'm the photographer and not the Easter Bunny.