Ellen Spencer Mussey: The Father of Penmanship's Trail-Blazing Daughter
Ellen Spencer was but 12 years old when she went to work in the penmanship school of her famous father, Platt R. Spencer of Geneva. She was the youngest penmanship teacher in Ohio, and her father, 62, was the oldest.
Following the death of her father in 1864, Ellen could have drifted into marriage, motherhood and obscurity. But the same penchant for excellence and accomplishment that marked the lives of her father and his business-college founder son, Henry, was endowed upon Ellen, a lawyer, educator and pioneer in the effort to open legal education to women and give them full legal rights apart from their spouse.
Born in 1850 in Geneva Township, Ellen received her early education from her father at the Jericho School on what is now North Myers Road (the Spencer home there is owned by the P.R. Spencer Historical Society). She studied at Rice's Young Ladies' Seminary in Poughkeepsie, N.Y., following her father's death. Further education was obtained at Lake Erie College and Rockford College, Rockford, Ill.
Her brother, Henry, founded the Spencerian Business College of Washington, D.C., and at the age of 19, Ellen moved to D.C. to lead the women's section of the college, which trained students for jobs in government and business. Her Washington presence connected Ellen to Reuben D. Mussey, who had served as a colonel for the Union Army and had a law practice in D.C. A New Hampshire native, Reuben had campaigned for Lincoln and joined a militia company led by Cassius M. Clay, an abolitionist. Initially charged with guarding the president and White House, Mussey eventually became captain of the 19th U.S. Infantry Regiment. As captain, he helped recruit African-Americans to serve as Union Army soldiers.
Ellen and Reuben were married in 1871; a woman far ahead of her time; she had the word "obey" omitted from the wedding vow. Nevertheless, in her actions she demonstrated a commitment to both matrimony and motherhood while blazing a trail for equality.
She bore two children, Spencer (1872-1891) and William Hitz (1874-1939), and was stepmother to Reuben's two daughters by his first wife. Ellen also took an interest in her husband's profession, worked in his office and studied law under him. She applied to the law schools of National University and Columbian College but was denied access. Just five years into their marriage, a huge burden was shifted onto her shoulders when her husband contracted malaria while campaigning for Rutherford B. Hayes. Reuben became an invalid, and Ellen, 26 and with four children and an invalid husband, moved the family to a building in downtown Washington near the law practice. With Reuben's assistance, the practice remained open.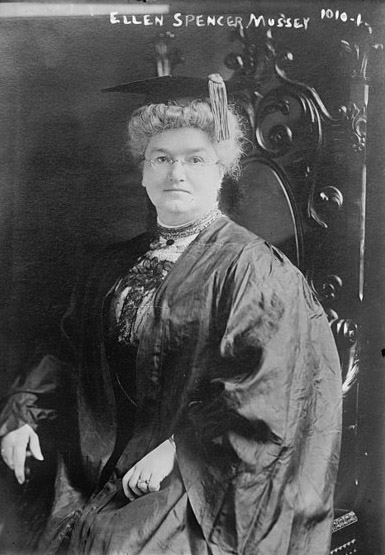 Ellen was not a member of the bar, however, and her husband's death in 1892 jeopardized her livelihood. Several Washington lawyers lobbied to have special consideration given to her, and in March 1893, Ellen passed the bar by oral examination. She was admitted to practice before the Supreme Court of the United States in 1896.
That same year, President Grover Cleveland signed into law legislation drafted by Ellen and giving women of the District of Columbia the right to their own earnings and custody of their children. Prior to the law, a father living in the district, even if he was a criminal, could claim custody. Her fight for a woman's independent legal status culminated in 1922 with passage of a bill that permitted an American female citizen who marries a foreigner to retain U.S. citizenship rights. As a result of this bill, Ruth Bryan Owen, daughter of William Jennings Bryan and the wife of an Englishman, could serve as a US Representative from Florida's 4th District from 1929 to 1933. From 1933 to 1936, Bryan was US Ambassador to Denmark.
Like her father and brother, Ellen had a strong interest in education. She was a member of the Columbia Board of Education and worked to establish kindergarten as part of the district's program. And she pioneered the effort to establish retirement benefits for public school teachers.
Her greatest accomplishments were in the area of providing legal education for women. An aspiring attorney, Della Sheldon Jackson, in 1895 requested an apprenticeship under Ellen. With assistance from a colleague, Emma Gillett, Ellen opened, on Feb. 1, 1896, the first session of the Woman's Law Class. Jackson, Nanette Paul and Helen Malcolm were its first students.
The program grew with assistance from several prominent Washington, D.C., attorneys. The students planned to take their final year of law education at Columbian College, but that institution rejected them on the grounds that "women did not have the mentality for law." That closed door resulted in the founding of the Washington College of Law, incorporated by Emma Gillett and Ellen Mussey in April 1898.
The college, since merged with American University, was the world's first law school founded by women. Ellen Mussey served as dean until her retirement in 1913.
In her retirement years, Ellen founded the Women's Bar Association of the District of Columbia and was elected its first president. She also was involved in the founding of the National Association of Women Lawyers in 1919 and was first chairwoman of the Women's City Club of Washington, founded the same year. And she was among the founders of the American Red Cross.
Ellen Spencer Mussey died April 21, 1936, in Washington, D.C.; she is buried in the district's Oak Hill Cemetery.