The smoke from the July 4th fireworks has cleared, replaced by the oppressive humidity and haze typical of July along the Lake Erie shoreline.
The bursts of fire and glimmer over the Geneva-on-the-Lake business district was witnessed by thousands of motorists and their passengers who'd paid $10 or more for a spot to park their vehicle close to the heart of the commercial district.
They came to drink, eat, listen to live music and find the best spot for watching the fireworks, which began at 10 a.m. Some might have known that it was the birthday of the nation that was being celebrated, not their arrival at The Resort. Even fewer knew the significance of the date to the story of Geneva-on-the-Lake, the "Pleasure Grounds" opened by Edwin Pratt and Cullen M. Spencer exactly 150 years earlier, July 4, 1869.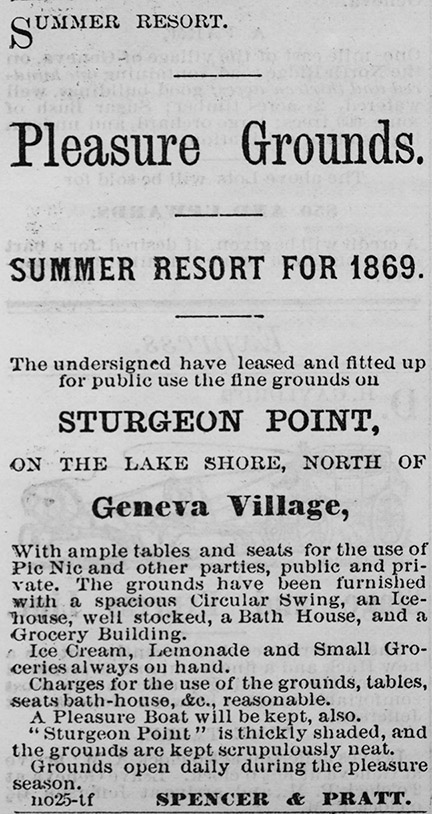 Their Pleasure Grounds amounted to five acres on Sturgeon Point. It was a shady picnic grove on this point of land that extends into Lake Erie and was named for the huge lake sturgeon that congregated around the landmark. The proprietors offered a horse-powered merry-go-round, tables and benches, lemonade and ice cream. Below the point, the wide beach beckoned, as did a small boat.
Sturgeon Point was sold for private development some 30 years after the Pleasure Grounds opened for business. By then, the business district had shifted to the west and was under the control of Warren and L.C. Spencer, Cullen's sons, and several others. Sturgeon Point was renamed Mapleton Beach, which became a densely packed cottage development that exists to this day.
Knowing and having written about the beginnings of GOTL and the historical significance of the July 4, 2019, holiday, I focused my documentary photography of the celebration on Mapleton Beach. Dozens of boats, including one or two large ones in the distance, gathered off the point as dusk fell over the historic land. Young adults, their faces illuminated by the LCD screens that fed them entertainment and news from distant places, glanced at the panorama only long enough to acknowledge the occasional explosion of consumer fireworks being shot off from the point.
When the first of the professional fireworks appeared in the southern sky, the cottage owners and guests left their beach chairs behind and flocked at the entrance to the Middle and West Drives of Mapleton Beach, which provided a clear view of the fire showers over Strip businesses.
The display came to a close and long lines formed at the order windows of Eddie's Grill, Katie's Korner and many other eateries that stayed open late to capture the post-fireworks business. Routes 534 and 531 became traffic jams from The Strip to downtown Geneva as the spectators returned to their beds and prepared for the day of work on Friday.
Spencer and Pratt would have been amazed by it all.